OUR OFFERING
To learn is to acquire knowledge and understanding based on current, accurate data (not dubious assumptions).
However, since we live in a fast-moving world of ever-increasing complexity, much of what we know and much of our data quickly become obsolete.
Therefore, learning how to learn has become a top priority in a complex world.
We need to continuously unlearn and relearn to adjust our mental models and paradigms to the way the world is, not what we would like it to be. We need to be agile in our thinking to keep up with the increasing competition.
Nevertheless, continuously adjusting an organizational culture to a turbulent world is not an easy task.
Change requires a well-managed process! Why? Because inconsistent processes yield inconsistent results. Therefore, ignoring the process reduces the chances for desired results.
The Strategic Wealth Creator System™ (SWCS™) empowers CEOs and their management teams with a structured and interactive process. The process includes six learning-by-doing step-by-step processes that clearly answer the most fundamental challenges in business today.
"I am grateful to Carlos for having seeded among our executives a more strategic thinking by redirecting our approaches from a clearly operative vision to a more relevant one in the creation of wealth ... and of analyzing our sales within a system that allows us to grow exponentially."
Arturo Melo, President & CEO, Group Melo
---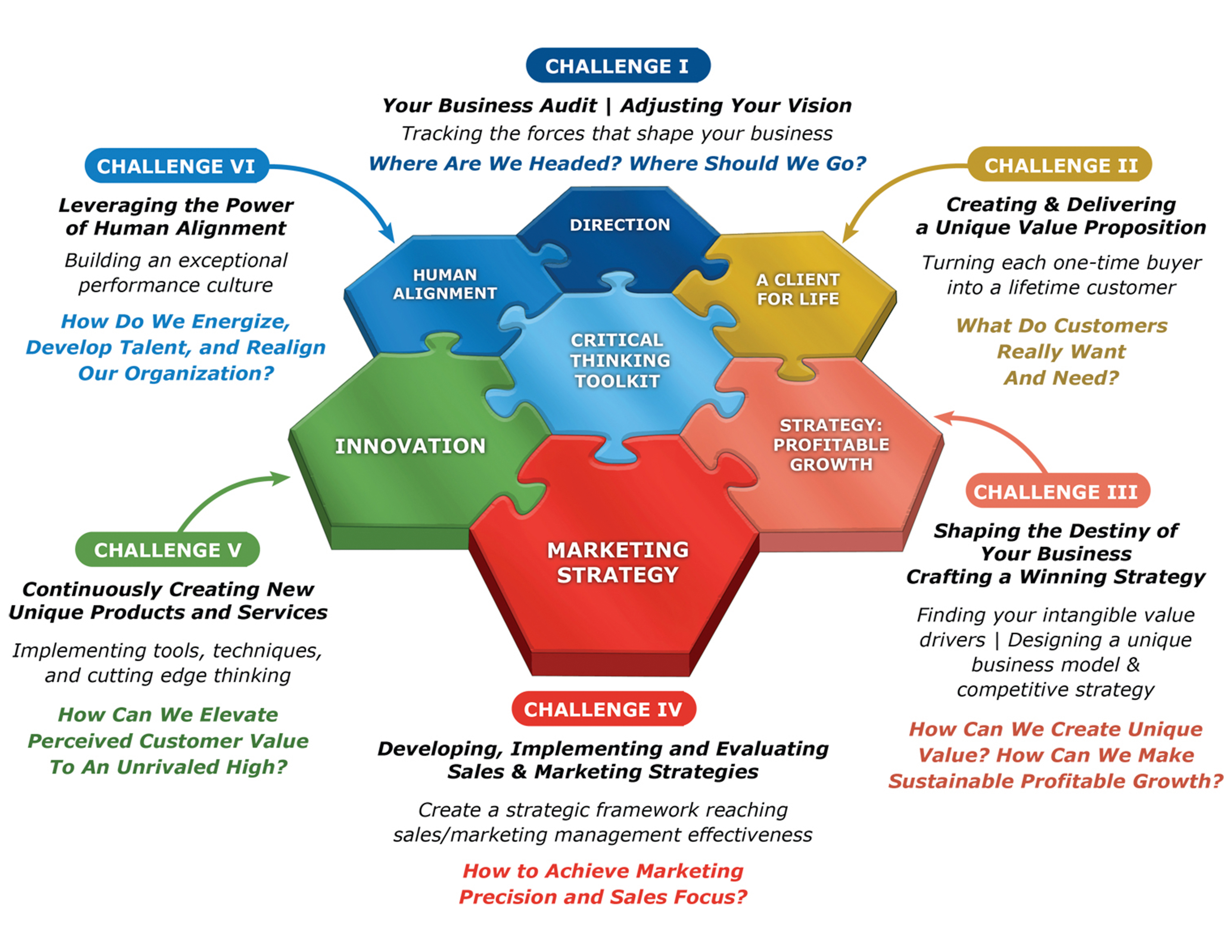 ---
What makes SWCS™ different?
The Strategic Wealth Creator System™ (SWCS™) differs from conventional strategic planning in three major ways:
It plans backward—in reverse—from where a business wants to be, for instance, a five-year vision to where it is now.
The SWCS™ process is continuous; it's not a one-time activity.
SWCS™ provides the opportunity for all key executives and junior executives to participate.
"I have had the immense fortune of having lived as a client of the hand of Carlos the experience of his SWCS™ in our university. His "Divergent Strategic Thinking" makes Carlos a world leader in strategic innovation and business models that advance, model and conquer the future. I consider it practical, suggestive, motivating and indispensable "
José Ramón Lacosta, President of Europe Forum, Business School of Navarra
Why does SWCS™ "start" at the end? What does it mean to you?
Most of the time, during a conventional planning strategy, the five-year vision is so far away that it seems extremely difficult to reach.
As result, most companies sadly realize that management has failed to deliver their vision. The SWCS™ solves this situation by using a continuous and scalable process model.
Through backward planning, we're able to overcome this failure.
That's because you complete each step of the process in the six structured interactive processes. After all, it is a well-known fact that challenges of finding a path from a known origin to a known destination are best solved by working backward, from the end to the beginning.
This creates three distinct competitive advantages for you:
Executives master how to connect the dots in a business.
Executives continually update their knowledge and understanding by assimilating new strategic concepts.
Easy, agile upgrading.
Each one of the six processes in the SWCS™ creates scalability, making each process more powerful over time.
More active and effective participation.
Through active participation, management and junior executives create consensus. This considerably increases the chances of successful execution of the vision. Why? Because those who participate in the continuous SWCS™ process have a vested interest in making sure that everything will be implemented as intended.
Because those who participate in the continuous SWCS™ process have a vested interest in making sure that everything will be implemented as intended.
"The Wealth Creator System™ - SWCS™ teaches that what will put you way ahead of your competition. You will not only learn your client's needs, but also their wants. This, in turn, will help you craft a unique client value proposition (based on your clients) as opposed to the traditional unique selling proposition (based on your products)."
Mac N'Dawn, CEO, Business Consulting Masters
Why is SWCS™ a continuous process? What does it mean to you?
Most plans don't work exactly as expected (as any senior executive will tell you). Why? Because any assumption can turn out to be wrong or the expectations were wrong, to begin with. In SWCS™, these discrepancies are detected early because the system is continuous.
"We have devoted a lot of time and money to formulate a new strategy for a market as difficult as Latin America without success." After hiring Carlos as an advisor, our sales went up $50 million in just three years."
Roddy Campbell, President & CEO, Pony International
Why is the SWCS™ a "learning-by-doing, participative" process? What does it mean to you?
The learning-by-doing that occurs throughout the SWCS™ is greater than what can be obtained in any other way in the organization. Why? Because it's a process for identifying new leaders who can replace older leaders when they leave, retire, or die. This is known as "succession planning," the process whereby an organization ensures that executives are recruited and developed to fill each key role within the company. This is the talent imperative that is the essential and overlooked ingredient for sustainable profitable corporate growth!
The Strategic Wealth Creator System™ is delivered in a comprehensive, interactive, and integrated eLearning-by-doing ecosystem. The system provides executives with a baseline of skills and tools that lead each executive step by step to create exciting, wealth-building strategies for your business. There's nothing like it in the global market
"Absolutely marvelous and so helpful. I was very impressive with the layout of the program. It was easy to comprehend. I thought the breakdown of the videos were very well put together."
Lee Green, CEO, Lee Green Basketball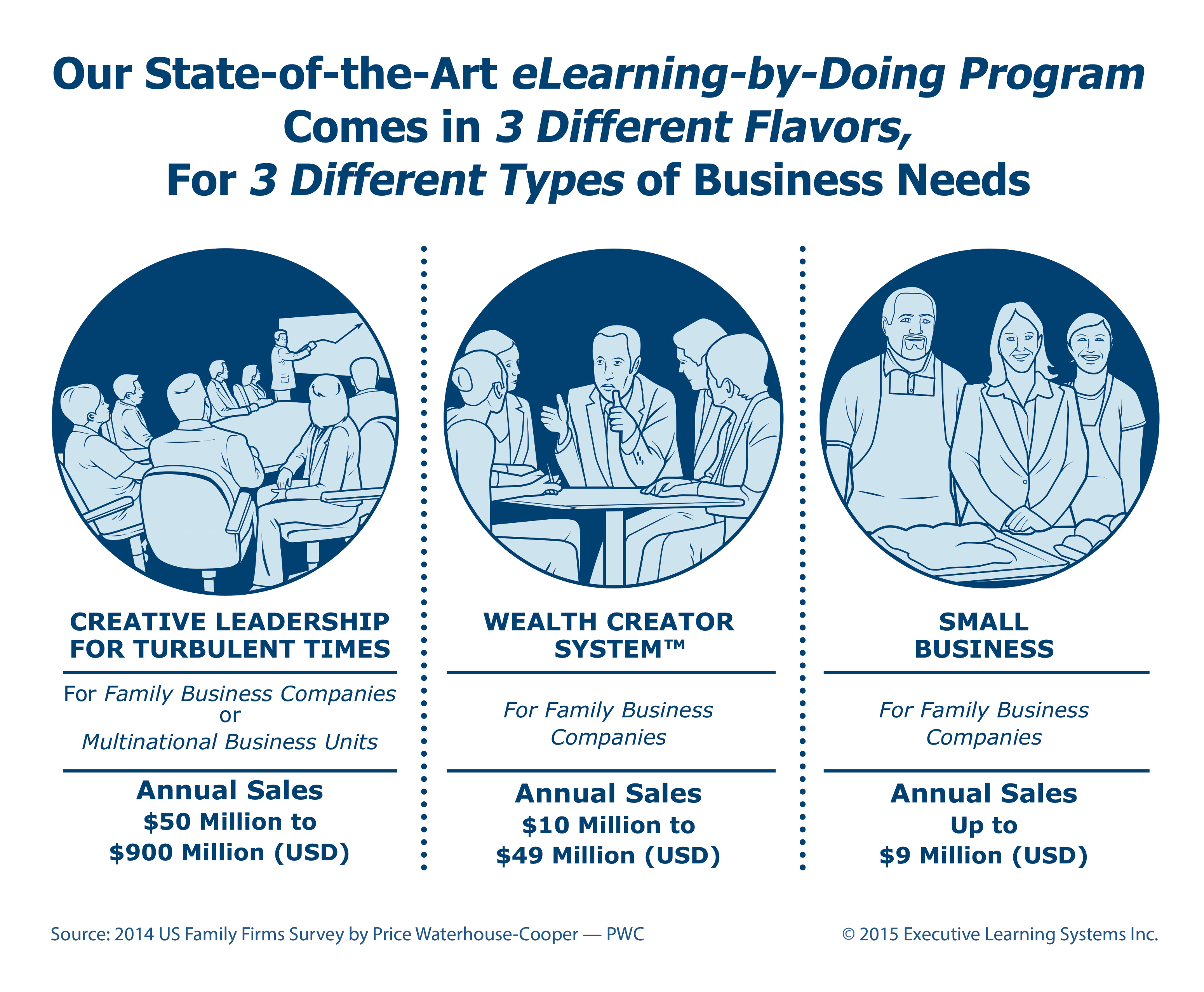 ---
The Strategic Wealth Creator System™ puts the CEO and managers right at the heart of the program.
"In the changing environment of the world of business with its relentless Darwinism, Carlos' wisdom, intuition and experience are presented as a welcome point of reference to address the necessary process of change"
Mariano Scola, managing director, Santander Private Advisors
Most consultants work exclusively with the CEO. Why do we work with—and include—the whole executive team?
We include the whole team because agile and continuous adjustment within the organizational culture requires the participation of all key members at the same time.
Furthermore, one individual (even at the CEO level) cannot possibly have all the strategic answers. Thus, by including a large team of executives, you are tapping into the experienced, collective intelligence in a collaborative mastermind group approach
Outstanding leaders are equally accomplished team players. From Apple to Samsung to Google and Zara (the largest global Spanish clothing retailer), effective 21st century leaders have mastered the art of strategic collaboration and continuous learning. In one stroke, they not only broaden their perspective, but also increase alignment, eliminate dysfunction, and build their bench of future leaders.
The mastermind group approach is a win-win, and it's baked into the very essence of Transformational Leadership.
This new approach causes positive change with the end goal of developing followers into leaders at all levels of an organization.
"Carlos is a very professional person. He is bold, tenacious, able to provide excellent support to a strategic program, and is someone I would like to imitate from now on." I find it incredible that there is this type of training with an advisor who knows how to link with my person, allowing me to instruct myself in a dynamic and fun way."
Carlos Vivas, CEO, Johnson & Johnson Medical, Venezuela
The SWCS™ guarantee
Try the Strategic Wealth Creator System™ now—risk free. There's no minimum term. You can cancel at any time. If for any reason you're not satisfied with your monthly membership, simply e-mail at carlosd@carlosdias.com during your first 30 days of your current month and we'll refund your money for that current month (not the previous months). No questions asked.
Your next step
If you're interested in learning more about the Strategic Wealth Creator System™, Carlos will be happy to answer any questions you may have about the program, including if the eLearning-by-doing program is right for you and your company.
Just follow these two steps:
Click here to fill out a contact form to make our call more productive.
In the message field of the contact form, provide several dates and times to coordinate a call with you. I will reply with a confirmation via email for our scheduled call.
The Learning and Doing Ecosystem video is below